Inspiring Kent Exporters Champion Others to Overseas Success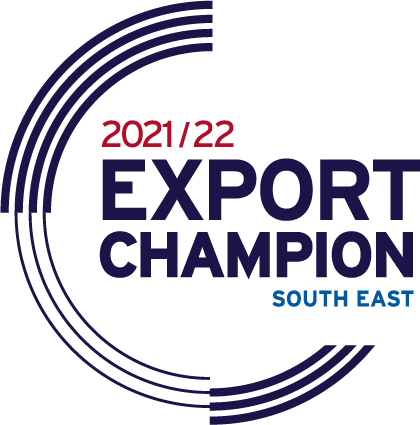 An impressive eight Kent business leaders have now been named Department for International Trade (DIT) Export Champions in a growing national peer-to-peer support network for companies looking to trade abroad.
Sian Holt, Managing Director of Fudge Kitchen, based in Lyminge, and Laura Bounds, the MD of Kent Crisps, located in Bridge, near Canterbury, are among some 400 champions from across the UK who have had their exporting expertise recognised by the Department. Laura was awarded the MBE in 2020 for services to international trade.
Also included among the senior executives who make up the high-powered network, launched by DIT in 2018, is Andrew Hodgson, CEO of Dartford engineering firm Beck & Pollitzer, and Matt Smith, MD at TPS Global Logistics. The Aylesford freight-forwarding specialist is a two-time winner of the Queen's Award for Enterprise in International Trade.
Completing the county's list of Export Champions are Georgie Delaney, co-founder and MD of Faversham-based The Great Outdoor Gym Company, Giedre Brandao, Managing Director of in-vitro diagnostics research company AbBaltis, in Sittingbourne, and John Tibbs, founder and Chairman of JTA – the renowned international sport public relations consultancy centred in Speldhurst.
Georgie was awarded an MBE for her services to international trade and exports in 2021 while John received an OBE in 2017 for his services to international trade and the sports sector.
Virginia Hodge, Marketing and Export Officer at Tenterden's Old Dairy Brewery, took up her place in the network, which ranges from tailors to the Queen to cyber security specialists, this summer. Click here to find out more about Old Dairy's story.
Boasting an impressive track record of international trading, DIT Export Champions are able to mentor others aspiring to begin exporting or to break into new markets. They also raise awareness of the wide range of practical help available for exporters through DIT and provide feedback to help the government continually improve its business support services.
Derek Murphy, Kent County Council (KCC) Cabinet Member for Economic Development, said: "Innovative businesses who embrace opportunities to export and showcase Kent and British produce and services to the world have a key part to play as we build back from the pandemic and adjust to trading outside of the EU.
"The current global economic picture is complex with just one in every 10 businesses nationally exporting. The Export Champion network is all about giving up-and-coming businesses the knowledge and confidence to increase that number.
"I am extremely proud of all of our business leaders who have stepped up to freely share their hard-won first-hand know-how with the exporters of tomorrow. There are inspiring stories behind every one of their journeys to the top."
Sandra Martin, DIT's Deputy Director, UK Regions – Southern England, said: "The Department for International Trade offers a range of services for businesses to help get them exporting but we recognise that the most powerful advocates for us are companies who are already exporting successfully.
"All the champions share an enthusiasm for their business and for spreading the positive word about exporting to other businesses as well as a big passion for their local area."
Giedre Brandao, Managing Director of AbBaltis, which now employs 10 staff with an annual turnover of around £850,000, said: "We would not be the business we are today without exporting. It has allowed our business to thrive and I am incredibly proud to have customers across the globe.
"I feel that I am championing Kent and the UK whenever we help an international customer."
Steve Samson, Kent County Council's Trade Development Manager, said: "The Export Champions network is just one of the export-related support options available to Kent businesses.
"The Kent International Business (KIB) programme brings together the services provided by DIT, Kent Invicta Chamber of Commerce and other initiatives. These include the 'South East Export Development' and 'IMPULS' projects led by KCC and designed to connect Kent businesses to overseas markets.
"Through the KIB programme we have had the privilege of working closely with many of Kent's Export Champions and we look forward to providing any additional assistance to help them to promote their world-class products and services abroad."
Click here to find out more about Fudge Kitchen by visiting their website.
Click here to find out more about Kent Crips by visiting their website.
Click here to find out more about Beck & Pollitzer by visiting their website.
Click here to find out more about TPS Global by visiting their website.
Click here to find out more about the Great Outdoor Gym Company by visiting their website.
Click here to find out more about Abbaltis by visiting their website.
Click here to find out more about JTA by visiting their website.
You can download the Kent's Export Champions brochure by clicking here.